Los Angeles, again. Overcast and smoggy. I heard that the pollution was worse in the 70's and 80's; I can't imagine how that could be. Maybe one day we'll all wise up together and turn it around.
I'm staying at a friend's apartment in Hollywood. He's out of town for the weekend so I get the place to myself. I'm actually glad to have some time to rest up. My reserves are low. I'll go through his movie collection and pick a few to watch tonight.
So, Missy and Jud are great. They live in a house that Jud built in Central Point, Oregon, just north of Ashland. The living room is big enough to host house concerts; the Justin band played there a few months ago and we rocked out. I was happy to return...they always have a fun group of friends in attendance. The show was part performance, part discussion. I liked it! I believe art should be experienced this way...the usual awkward separation between performer and audience has always struck me funny.
We ate, I played, and then we made a discovery; many of the folks there were sci-fi buffs! I enjoy a well-made film or book every once in a while but I'm not exactly an expert. Kyle, on the other hand, is. He found his people! They talked about it for a couple of hours before we finally hit the road. I learned some things about Star Wars.
That night we stayed in Yreka, California. Totally unremarkable, except for when we went to the drive-through coffee shack and the coffee girls thought I was being stupid. As I reached out the window to take the cups and then pay the girls I couldn't look up at them because of my sore neck. It looked like I was bowing to them as I paid. They thought I was strange and Kyle made fun of me for it. I should have left him there.
I didn't leave him there. We drove on to San Francisco. I've always loved 'The City' (as if there are no others...) and it was nice to be back. We hung out at a cafe in North Beach and watched the city folk and tourists go by. We got some pizza and walked though Chinatown as we ate. I considered looking for one of those massage parlors but I wasn't feeling confident enough with my Mandarin skills to be able to say "No. Just the neck, please".
Back at the cafe it got crowded. A woman walked by us a couple times looking for a seat. She finally asked if she could join us, as there weren't any other tables available. She was fun and funny, and she told us stories of being turned down for marketing jobs after 9-11 because of her Iranian heritage. She told us about her experience living in Vietnam; her Cuban boyfriend was kicked out of the country for living with her. They didn't even give him a day to pack and say goodbye. Just for living with a woman out of wedlock. She was not impressed. We talked about other stuff, too, and Kyle eventually hit his stride and had us in stitches for a good hour. She eventually left and we did too.
The San Francisco show was fun. Cafe du Nord is a fantastic venue and the folks who run the place are very, very nice. I was thrilled to see The Bittersweets play, too. Hannah has an amazing voice, Chris writes wonderful songs, and Steve Bowman is still one of my favorite drummers. A ton of friends showed up and it was a challenge to spend quality time with any of them. I was happy to see them. Dave Getzschman, photographer extraordinaire was there. He really is quite good.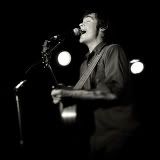 The next morning Kyle and I rose early to catch separate flights. It was time for him to go home to Seattle and for me to come to Los Angeles. As we were pulling up to return the rental car he got some great news about the comic book he's been working on with his brother. I can't say exactly what it was, but it's exciting and you should all go look at www.smashcomic.com.
We parted faux-tearfully and I was left with a feeling of faux-emptiness. He's a good friend.
I landed in LA. I bummed around for a couple of hours before going out to see some music. I saw my old bandmate Nadir play...he sounded great. When he was done we went to the Sunset Strip to watch another friend's band, Pedestrian. As we approached the Roxy we were passed by a couple of groups of guys who were dressed in 80's rock garb. Makeup, hairspray, bandanas...the whole nine. They weren't kidding, either.
Pedestrian is fantastic. The band is made up of 4 extremely talented musicians...the songs are great, the playing is phenomenal, and they brought an odor of class to the dumb-smelling Roxy (I was charged a dollar for a cup of water. Not a bottle of filtered spring water...a cup of tap water). I would highly recommend seeing a show should the opportunity preset itself. I was inspired.
Tomorrow I'll play the last show of the tour...I'll let you know how it goes.
www.ehrenwords.blogspot.com